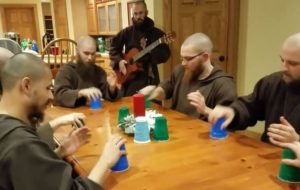 [1]Меншыя браты францішкане з Індыяны запісалі кароткае відэа, дзе выконваюць песню «Jesus King of Glory» («Пан паноў і Валадар наш») пад акампанемент гітары і звычайных пластыкавых стаканчыкаў, паведамляе Credo [2].
«Невялікая калядная забава для братоў», — падпісалі манахі ролік, апублікаваны на старонцы [3]ордэна ў Фэйсбуку.
A little Christmas fun for the Friars. Here they are playing the "Cup Game" (or whatever you cal it) to the Song "Jesus King of Glory"…enjoy and Happy New Years! "Jesus, looking at him, loved him and said to him, 'You are lacking in one thing. Go, sell what you have and give to the poor and you will have treasure in heaven; then come, follow me." — Mark 10:21http://FranciscanFriarsMinor.comPlease consider supporting our seminarian fund as we are in GREAT need — God bless you!http://www.seminariansupport.org/index.html

Опубликовано Franciscan Friars Minor [4] 30 декабря 2016 г.